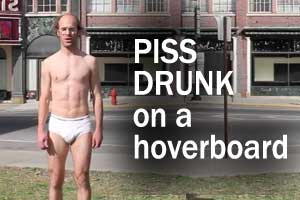 Piss drunk on a hoverboard – Prankster on a hoverboard in Las Vegas
Drunk on a hoverboard
Watch this guy riding a hoverboard totally drunk on the sidewalks of Las Vegas. He hassles people, falls everywhere and even grabs strangers. Before you start cursing him, let us tell you that he's not actually drunk, he's comedian Nathan Barnatt pulling one of his crazy physical pranks.
Watch the funny video first and then we'll talk about what funny man Nathan has been up to. Remember this guy is a physical comedian who can do strange falls and take tumbles from odd places, so don't even think about trying out any of the things he does.
In this new prank, Nathan Barnatt takes on the persona of Brice Onin, a drunk bro who just bought a hoverboard. Nathan does some pretty weird things on the hoverboard like falling down stairs, falling into waterfalls, grabbing people, slithering down the sidewalks and much more.
Nathan Barnatt, who you may know as the video game legend Keith Apicary, has done some crazy pranks before, like rushing on to the stage while a panel discussion was happening with Peter Jackson and James Cameron, to get a drink of water.
Nathan is a character comedian on YouTube and his videos get millions of views. Amongst his previous infamous videos was one about Keith Apicary trying to sneak into Comic Con in San Diego. Watch the video here.
He has several crazy YouTube dance videos, this one has almost 6.5 million views:
This music video with Keith Apicary in it has close to 39 million views:
​He also did an Obama victory dance:
Nathan has been a part of several comedy shows like Comedy Central's The Gong Show with Dave Attell in 2008, Comedy Central's Ghosts/Aliens pilot in 2009, and This Show Will Get You High in 2010. He was also set to be the lead dancing clown for Michael Jackson's cancelled 'This Is It' concerts.
If you want to see more of Nathan Barnatt, check out his YouTube channel.